Cannonball 2018: History Makes History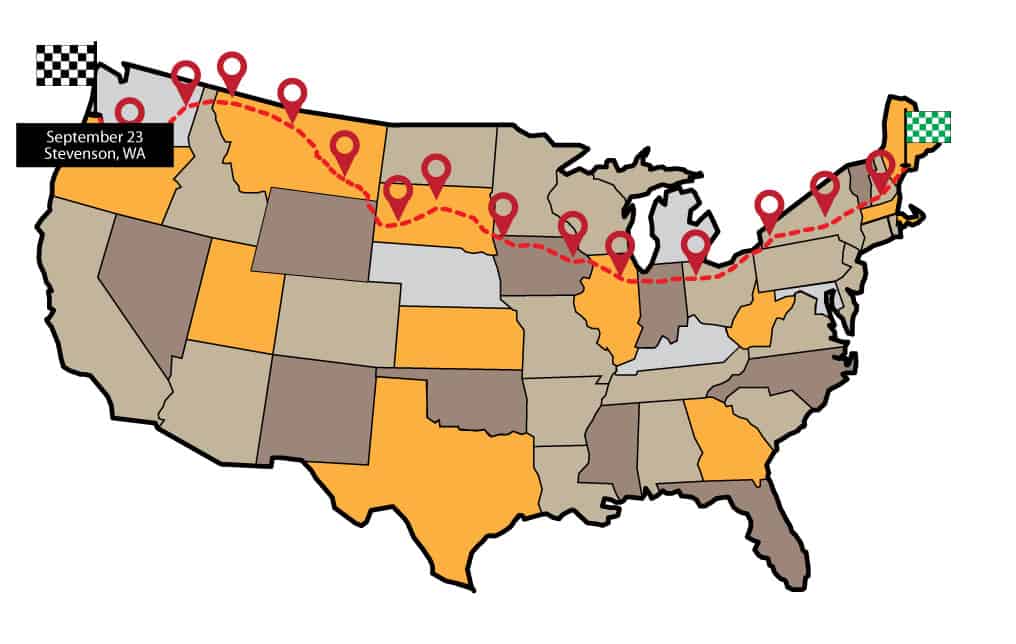 STEVENSON, WASHINGTON, Sept. 23—Eight years ago, AMCA member Lonnie Isam had a vision of riding old motorcycles across the country with his friends. Lonnie's concept turned into the Motorcycle Cannonball endurance run, which successfully traversed the United States in 2010, and then again in 2012, 2014 and 2016.
Last year, the visionary behind this ride died. But over the past 16 days, 107 dedicated old-bike enthusiasts have proven that his spirit lives on, completing a coast-to-coast ride from Portland, Maine, to Portland, Oregon, on bikes ranging in age from 90 to 107 years—just as Lonnie would have wanted.
The 2018 Cannonball, now under the direction of Jason Sims, the man to whom Lonnie entrusted it, came to an end tonight in Stevenson, Washington, just across the river from Portland. And it concluded in historic fashion with a spectacular 51-mile ride through the scenic Columbia River Gorge. After 3,440 miles and 14 days on the road, more than 90 running machines, and their riders, assembled at a park on the Oregon side of the river, then paraded across the gorge to the Skamania Lodge, where a crowd of hundreds was present to greet them.
Those fans were able to cheer the first rider in Cannonball history to record a perfect score aboard a Class I (single-cylinder, single-speed) machine. Dean Bordigioni completed that feat two years after he came up just a single mile short of perfection aboard the same 1914 Harley-Davidson belt-drive single in the 2016 Cannonball.
Dean was just one of a record 45 riders to compile a perfect score in this year's Cannonball, completing every mile within the time limit every day. Under the Cannonball tiebreaker rules, he earned the overall championship because he completed the journey on the oldest Class I bike to last across 15 states and four time zones.
"This has been eight years coming, and I'll admit, this was hard," Dean said, noting that he rode the Cannonball in 2012 and 2014 aboard a twin-cylinder Harley before attempting it on a single.
"There's a reason why this is the first time that a single has won," he added. "This is the first time they found somebody stupid enough to try it two times in a row on one of these!"
Dean ended with a tribute to the Cannonball's founder, noting, "Lonnie Isam changed our world. I would never have thought about crossing the country on a 1914 motorcycle if it wasn't for him."
Second place overall, and first place in Class II (which combines multi-cylinder, single speed bikes with single-cylinder, multi-speed bikes) was Fred Wacker aboard a 1913 Indian. Fred's victory also represents history, since he became the first person to earn a perfect Cannonball score aboard a so-called "Hedstrom" Indian, one of the original generation of the company's bikes designed by founder Oscar Hedstrom.
Andrea LaBarbara's third place in the final standings aboard a 1913 Henderson added another bit of history, since she led a record contingent of four women Cannonball riders this year, and three of them—Andrea, Kersten Heling and Jody Perewitz—finished with perfect scores. The fourth, Cris Sommer Simmons, holds a special place as one of the pioneering women on the ride, having competed four times. And Andrea recognized Cris' leadership, noting, "She paved the way, and she gave me confidence, telling me, 'You can do this.' "
Steve DeCosa claimed the Class III title aboard the same 1915 Harley that earned him the class title two years ago. As was the case in 2016, though, he had to overcome mechanical problems on the final day to nail down the victory. Two years ago, his brakes failed and he had to stop the bike by dragging his feet on the run into the finish. This time, he suffered from an ignition problem that made the Harley difficult to fire.
"Two years ago, it wouldn't stop," he said, "and this time it wouldn't start."
But Steve noted that other riders helped him throughout the day, exhibiting the camaraderie that has been part of the ride from the beginning.
That Cannonball spirit was specifically recognized in the form of a special award that went to Victor Boocock, who helped test Lonnie's concept for the ride in 2010 by making his own solo cross-country trip aboard a 1914 Harley twin that is his only motorcycle. Victor successfully completed that ride, but his bike was so worn out that he missed the inaugural Cannonball that year. He's been back every time since, though, and this year finished fourth overall with a perfect score.
Victor notes that the competition element isn't what attracts him to the Cannonball. Instead, he says, it's the chance to see America from the seat of a 104-year-old motorcycle.
"The most important part for me," he said, "is the scenery, from the forests of the East to the mountains, to the high desert. Riding through that, day after day, is really special."
Tonight, all of the 2018 Cannonball riders are reliving those images of America, having completed a experience like nothing else on earth. And, like Andrea LaBarbara, they're having one simple thought: "What do I do tomorrow?"